Contactless Curbside Pick-Up Service: Easy as 1-2-3!
With everything going on and for the safety of our staff and you our customer, we doing call-ahead and contactless curb side order pickup.
We are closed on Monday's and open Tuesday - Saturday 10 - 4pm, Sunday 12 - 4pm.
Place your order by calling us at (770) 565-9841.
We will fill your order and then put your name, receipt & Frequent Seed Shopper Card on it, and place it out front.
Come up to the storefront and it will be waiting for you outside!
Discover a refuge in your own backyard®
If you love nature - Welcome!

We are in our 22nd year of ownership at our Marietta Wild Birds Unlimited Nature Shop. It just seems like yesterday that we swept off the mat for the first time in the front of our store. Our passion is to be a part of the wonderful experience that nature offers us all when we choose to participate in it firsthand.

Watching and feeding birds is one of North America's major hobbies (second only to gardening). Our Marietta Wild Birds Unlimited is a premier specialty store, offering quality, private-labeled products and expert advice, where hobbyists can share and learn all the joys nature and wildlife have to offer.

Our store is a complete resource for birdfeeding, specialty-blended no-waste birdseed and unique nature-related gift items. Our WBU Certified Birdfeeding Specialists™ are trained to offer the best advice on backyard birdfeeding and can assist you in selecting the best feeder and the right birdfood for your yard. Unlike the "super stores," we want to hear your nature stories and see your bird photos! At Wild Birds Unlimited, we bring people and nature together® everyday!

Our home has had as many as 3 dogs (all rescue), 2 cats (1 rescue) and 2 horses. So horse, dog & cat are spoken in our store also. (-;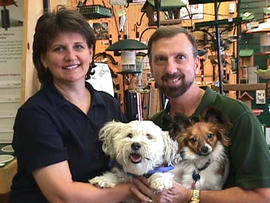 Locally owned and operated by
Joe & Kyle Ranney